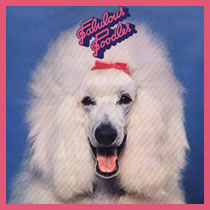 At the dawn of the 1980s I lived in a condo subdivision on the outskirts of Elkhart, Indiana. There was a girl down the street from me named Sara. She had long blond 1970s girl hair that glowed in the sunlight. I was in love with her.
She was completely out of my league, of course. But there was no one else to hang out with in that neighborhood, so she sometimes hung out with me.
She made a point of explaining to me how much cooler she was than me. She didn't listen to top 40 radio. Her favorite band was
the Fabulous Poodles
.
Fabulous Poodles
.
That name sounded so exotic and weird to me. Nothing like the popular groups of the day - The Eagles, Doobie Brothers, Christopher Cross, Linda Ronstadt.
I'm sorry to say that I've never heard the Fabulous Poodles, at least never to my recollection. But I heard some of the other bands she talked about - Devo, the Split Enz, Psychedelic Furs - and I liked it
.
In 1980 I got a copy of
Freedom of Choice
and
True Colours
and I found myself quite happily out of the mainstream for the first time in my life. I even joined the Devo fanclub and started receiving their weird mailings.
Of course, I still liked some of the top 40 stuff - especially Fleetwood Mac's "Sara," which was the
third top-selling song that year
.
Gee. I wonder why.